It's often hard to buy Christmas presents for HIM – why? Because he usually has what he needs. And the things that he usually "wants" are a bit more than the average budget can allow.
So what do you get HIM for Christmas? What are the best Christmas Gifts for Men?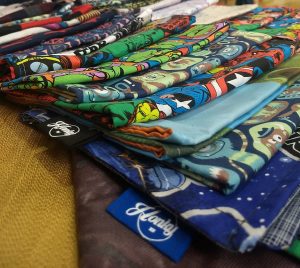 I know – it seems a bit self-serving for us to list it first – but it's true. Everyone should have a few handkerchiefs in their wardrobe, so that they can keep a clean one on hand. It's a hand tool to catch crumbs on his lunch break, to stop bleeding in case of an emergency, or to clean off his windshield when it the defroster stops working!
2. A Pocketknife
You can't have too many pocketknives. I keep one in my drawer at work, one in my car, and carry different ones in my pocket.
3. A gift certificate
But not just a typical gift certificate. Get him a gift certificate to the restaurant near where he works, or a gas card, or a gift certificate for a tattoo at his favorite place. A little thought into the kind of gift certificate makes it a very meaningful gift.
4. A Power Bank
They aren't a lot of money – but a powerbank that can charge his cell phone when he's going out is a great gift. Practical, and guys like gadgets.
5. Beard Oil / Beard Balm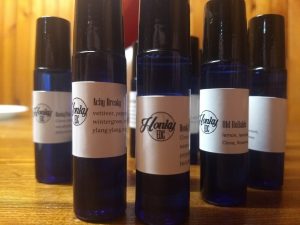 Guys love this stuff. You can get him some HonkyOil – or any beard balm will be helpful to keep that beard smelling nice, and looking smooth.
6. Flannel Shirt
Like pocketknives, a guy can never have too many. Consider getting a lined flannel for wearing as a jacket, or an extra soft one for cuddling up by the fire.
7. A Zippo Lighter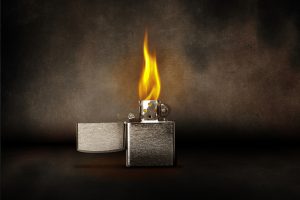 Even if he's not a smoker, men love Zippo! It's fun to fidget with, and practical for starting campfires, and helpful in an emergency. Zippo's are collectible, so depending on your budget, you could get something customized, or emblazoned with his favorite band or sports team on it.
8. Zippo Hand-warmer
Another gift from Zippo that every man would love. The old school hand-warmers, if you can find them, have a flame that burns low and radiates heat. The newer ones use a rechargeable battery. But they are a great gift for any man that lives anywhere north of Arizona.
9. Vintage Toys
Most men may have moved on from their childhood, but they might have a soft spot for some of the toys that they played with when they were younger. Chances are good, mom made him give them to goodwill, or sold them at a yard sale, but the classic GI Joes, Ninja Turtles, or Hot Wheels cars that he had to let go may occasionally come back to his mind with a certain fondness. Having a little trinket for his dashboard or his desk at work would be appreciated.
10. A New Wallet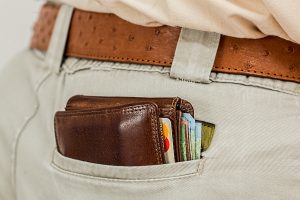 Don't just grab one from the big box store. Get him a good one, from a local craftsman, or somewhere like Recycled Firefighter or Hitch and Timber.
11. A "Pocket Dump" Dish
At the end of the day, he needs a place to dump his pockets. His spare change, receipts, pocket knives, and other every day carry items need a place to park for the night. Get him a wooden box, or a brass bowl or some other interesting place to leave his goods at the end of the day.
12. Spare Cell Phone Chargers
They're always breaking, getting lost, or getting plugged into Alexa, because someone took her cord. 🙂 Get him a handful of high quality chargers at an affordable cost at Monoprice.
13. A Toiletry Bag
Men need a place to park their toothbrush, cologne, razors, combs, etc. A toiletry bag, or shaving bag gives him a place to keep it, that he can quickly zip up and take with him when he has to go on the road. Get a heavy duty canvas bag, or a leather one!
14. A Toolbox
He may have a nice toolbox to keep his tools in, but I've found that it's handy to have a mobile box outfitted for each kind of project. A plumbing toolbox, a car repair toolbox, an electrical toolbox… it makes it easier to find what we're looking for.
15. Books
There are so many great books that help men level up. Ask us what kind of books we like though.
16. Meat
Seriously. Get him a rack of ribs, or a whole sirloin. Fill up the freezer with steaks. You can't go wrong.
17. Magazine Subscriptions
Popular Mechanics, Stand Men's Magazine, Men's Journal, Handyman magazine. Get him a subscription for something he's interested in.
There are some great oils for men. Mister, Valor, Vettiver, Deep Relief, Stress Away, Thieves… A Starter kit is a great way to get him involved in a healthy lifestyle. There are even some great energy drinks he might be interested in… the Ningxia Nitro is amazing.
19. A floor jack for his trunk
Let's be real. The factory jacks in most vehicles are cussword inducing nightmares. Get him a nice study jack that is simple to use, if he needs to change a tire or work on his car.  If he has one for the garage, a second for his trunk is going to be loved.
20. A trip to the barbershop
Not a salon. No girlie hair treatments. Get him in for a haircut and a hot towel shave (just clean up the edges… no need to lose the beard). Find an old fashioned barber. There is nothing better.